CAW Career Chronicles – Our team share their stories of progression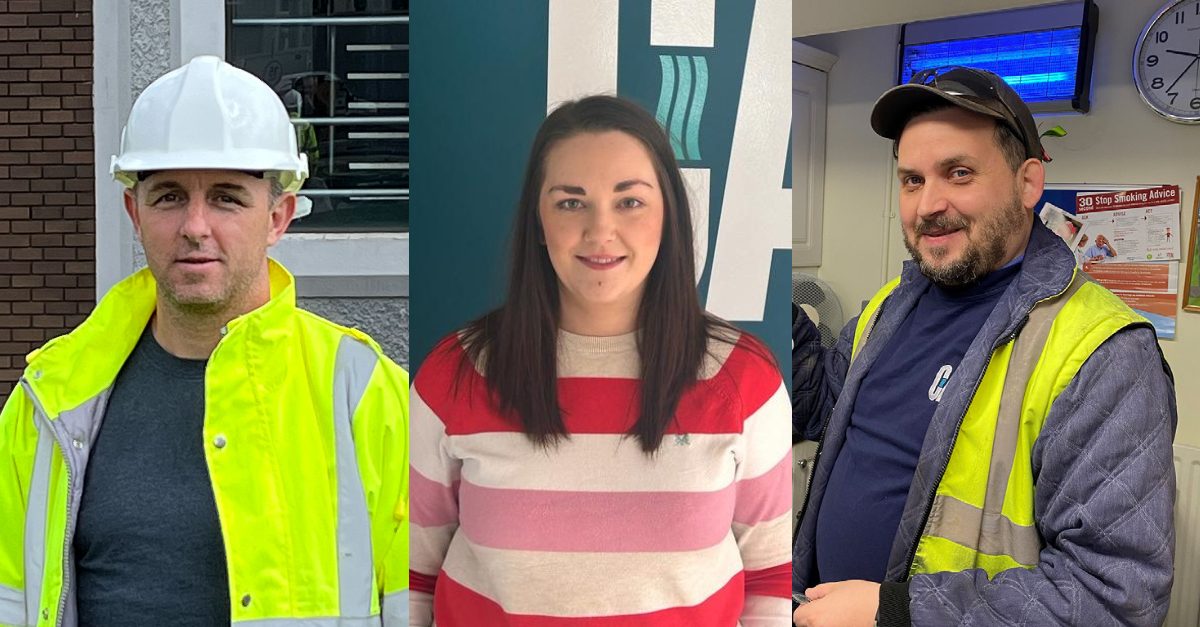 Here at Celtic Anglian Water (CAW), we're committed to delivering solutions that preserve and protect the world's most precious resource, water, but we couldn't do it without our talented and committed team. So, for us as a business, people are our most precious resource and put great importance on creating opportunities for the team to develop and progress.
So, we'd love to share with you the stories of three members of the team:
Clionadh, who started her journey as an intern and is now our HSEQ Officer
I did my six month internship at CAW in 2015 as part of my Environmental science and health degree and loved the experience so much that I asked if I could stay on a day a week for the remainder of my course which they agreed to!
After completing my degree, I joined CAW as a Process Engineer, and was encouraged to complete my Masters in quality alongside work, which I gained in 2018. It was really the safety side of Process Engineering which was the biggest interest to me, so when the opportunity arose a year ago to apply for the HSEQ Officer, I was keen to apply and thrilled to get the role and I am really enjoying it.
My favourite part of my role is the level of interaction I have with people across the business and working closely with members of the team to resolve issues that arise, and to find new ways to keep people safe. I also love an audit and getting to the crux of what could make people's lives easier at work!
The best thing about working at CAW is being part of a talented team where everyone is happy to go above and beyond to help each other, and where personal and professional development is encouraged and supported.
My advice to new interns or those just starting out in their career is to accept or volunteer for every opportunity you can – it may seem scary but it is worth to help you develop and see what you are capable of!
Waldemar, who started his journey on a temporary contract and is now a Team Leader
Before starting at CAW I worked in various construction jobs, and, in fact, started at Celtic Anglian Water on a temporary contract through ICDS for just over a year before I became permanent. This involved a variety of jobs which were mostly cleaning and repairing to start with, and then working in Dryers on shifts. Around a month after moving to Dryers a permanent Yardman position came up in Dryers and I signed my contract with CAW few months later!
I started with CAW as Yardman in Dryers – moving trucks with product, operating weighbridge, helping other operators with any jobs, general cleaning. After some time my manager at that time told me that he was very happy with my performance and I progressed to sampling. During this time I learnt SCADA and process as well, to know how to adjust processes according to samples results. When the Lead operator on that shift retired, I automatically I became Second Operator, doing samples and controlled process. A couple of years later I progressed to Lead Operator.
At the end of 2019 a Team Leader retired and I was asked to apply, so I did, and here I am!
The things I value most about my job at CAW is that, in my job, I am never bored and there's always someone to help when you need. There are also a lot of good people in company for whom it doesn't matter where you are from, it is very inclusive.
Stephen, who started his journey as a Maintenance Fitter
I joined CAW as a Maintenance Fitter just over 15 years ago. Several years later I left to take a role as a Lead Maintenance Fitter for a Waste Energy Facility, but having kept in touch with my colleagues at CAW was keen to return to the team. When a Mobile Engineering Manager role became available, I applied and haven't looked back since!
It is a busy and challenging role, but as I love a challenge it suits me very well. I manage a team of fitters, welders and general operatives responsible for keeping our sites running smoothly and compliantly.
Also get involved in tenders and new projects, upgrades and maintenance works. It can be a balancing act in terms of managing priorities, but with such a great team we always make it work!
But the best bit about working at CAW is the team and the fact that CAW really look after their team. For example, they have encouraged and supported me to complete my Bachelor's degree in Maintenance and Asset Management Systems.
My advice to anyone looking to progress in their career is to take the opportunity to do additional study and qualifications if you can. Speaking to colleagues or investigating what is on offer at college is a good place to start.
Start your own story with Celtic Anglian Water
As the team continues to grow, we are advertising for a range of roles, which can be found on our careers page. Take a look and get in touch with your CV if you think you could be a good fit for one of our positions.