Celebrating Women in the Water Industry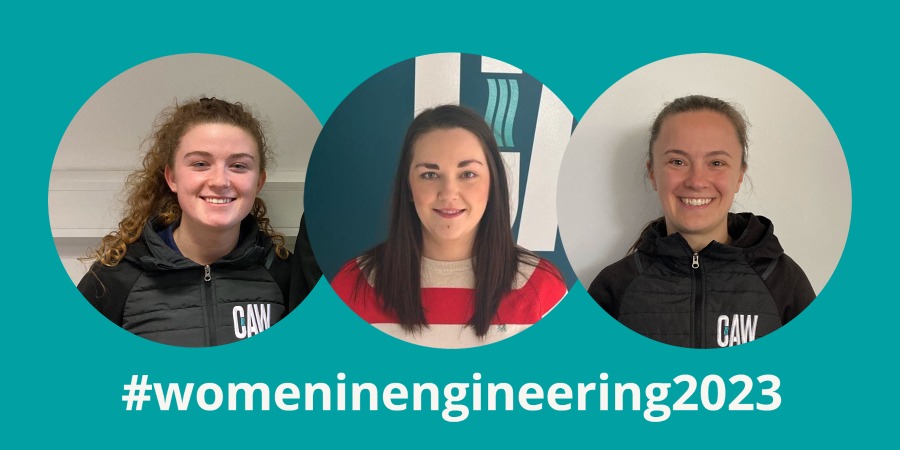 On International Women in Engineering Day 2023 we're celebrating all the women in the Celtic Anglian Water team, and our UK sister company Alpheus. Whilst they may not all be engineers, similar to engineering, women are seriously under-represented in the water sector. Only 19% of the water sector's workforce are female, compared to the 47% of women in all sectors nationally ¹.
We're keen to change that at CAW and Alpheus, and to inspire more young women to pursue a career within the Water Industry with inspiring stories from the women in our team, and an insight into how you can make a difference at all levels within the industry.
Róisín Dignam, Process Intern, Celtic Anglian Water
Róisín is currently studying Environmental Science and Technology at Dublin City University (DCU), and chose to work at CAW for the Internship part of the course. During the internship she has been carrying out a wide range of tasks and experiences including monitoring gamma radiation, monitoring H2S gases and analysing the sludge and water treatment in the labs.
"As an Environmental Science student this internship was the most interesting because the Wastewater industry has a massive impact on the environment and it is such an important process that I didn't know enough about.
"The best part of this internship is that I am learning a lot of useful things that I will definitely be able to use in my final year in college, and in my future career. I hope to complete a masters first though!
"My advice to anyone considering a STEM career, or a job in the water industry, is to just go for it! Don't let small things stop you. It is It is very enjoyable, interesting and really opens doors and options for careers with the skills and knowledge you will develop. And if you give it a go and choose to move to another industry, you will have built up lots of knowledge that you can take with you."
Clionadh Williams, HSEQ Officer, CAW
Clionadh first joined Celtic Anglian Water as an intern in 2015 as part of her Environmental science and health degree. She enjoyed the experience so much that I asked if I could stay on a day a week for the remainder of my course and joined CAW a Process Engineer. Fast forward a few years and just over a year ago Clionadh was promoted to HSEQ Officer.
The best thing about working at CAW is being part of a talented team where everyone is happy to go above and beyond to help each other, and where personal and professional development is encouraged and support. For example I was encouraged to complete my Masters in quality alongside work, which I gained in 2018.
"The best part of my role is the level of interaction I have with people across the business and working closely with members of the team to resolve issues that arise, and to find new ways to keep people safe.
"Women are under-represented in the industry which is unfortunate. I think women can add a different perspective that hasn't been tapped into. By diversifying in the workplace, you are getting a lot more different perspectives and ideas which can give you a competitive edge over other companies.
"I think it is a good career choice for a number of reasons. The first being there are plenty of job opportunities available that the skills you already have are likely to be transferable to. The second is, that you can make a real a difference with the work that you carry out and third, is that you have the opportunity to inspire other girls to pursue a career in STEM too!"
Frida Tropp, Process Engineer, Celtic Anglian Water
Frida has a degree in Chemical Engineering and a Masters in Materials Chemistry. She joined the CAW team a year and a half ago as a Process Engineer, managing a team of five at the Ringsend Waste Water Treatment plant.
"The most rewarding part of my role as a Process Engineering is discovering and implementing a solution to a problem, and having the opportunity to identify and implement improvements to processes and projects.
"On a day to day basis I line manage a team of five, process and analyse data and use insights, tools and the experience within the team to make improvements and optimisations to projects, and in problem solving.
"If you're interested in a career in in science and engineering, you could make a real difference in the water industry, so if you find it interesting, go for it and believe in yourself!"
Jo Fensome, Site Supervisor, Alpheus
Jo is the Site Supervisor at our Waste Water Management and Recycling centre in Milton Keynes, and has been at Alpheus for 19 years. Her role has been to facilitate the disposal of liquid waste bought on site by tankers from a range of customers and sectors, to ensure it is processed safely and compliantly. Jo's attention to detail, high safety standards and people skills ensure things run smoothly on site.
"The most rewarding part of my role is knowing that waste received on site has been assessed and treated compliantly to prevent pollution to the environment. This involves sampling and testing waste that arrives on site, inspecting paperwork to ensure compliance, treating the waste appropriately and maintain the site and it's records.
"I would definitely recommend considering a role in science and the water industry. After all, I have been in the industry nearly 20 years! As a scientist the best part has been always learning new things. In the waste water industry you can really make a difference to prevent pollution to water courses and protect the environment. It can be challenging sometimes, but as in any part of life, the path won't always be easy but it is rewarding when you have made a difference."
Holly Palmer, O&M Contracts Manager, Alpheus
Holly not only manages the vast majority of our Operations and Maintenance Contacts, ensuring everything runs smoothly and that queries and issues get resolved quickly, she also works closely with the engineering team to collaborate on new tenders and to facilitate and manage the successful implementation of upgrades and maintenance. It is her in-depth knowledge of the customers, and our capabilities that has led to high levels of customer loyalty.
"I joined Alpheus as an Administration Assistant at just 16 and have worked my way up through support and Service Desk roles to manage the Service Desk. As the business grew I became a Key Account Manager and now manage the majority of our Operations and Maintenance contracts.
"The most rewarding part of my role is working with a wide variety of people, across different industries and roles. This has given me so much insight into different perspectives and sectors which has helped me develop and learn to help offer the best service and solutions for our customers.
"STEM roles are still overwhelmingly held by men which has the unfortunate consequence of bias in the industry. It is critical that more women break into STEM to ensure we have diversity within the field, where we can make use of our different perspectives and challenges to drive change and help the industry grow even further."
Paula Burgess, Customer Service Co-ordinator, Alpheus
"I started with Alpheus after being in the childcare industry for nearly 20 years so starting an admin role within the water industry was a completely new challenge for me.
"Before I joined I took water for granted – and just assumed it will always be there to be used as and when – and didn't think about what happened to wastewater. But the Water Industry is a lot more than water from a tap, there's so much more to treating waste and ensuring compliance to protect the environment. It has been an eye opening experience and I have learnt a lot over the 8 years with Alpheus thanks to a supportive team and a line manager that encourages me to develop my skills and widen my knowledge.
"My advice to anyone considering joining the industry is to go for it – it is interesting on so many levels! There are loads of opportunities to grow and develop your skills and knowledge, even if science and engineering are not your strong point. The business needs women at all levels to bring a new perspective and approach in an area that's still dominated by men. The great thing is that whilst there are more men in the field – we are valued and encouraged as equals in the Alpheus team."
Lorna Gibson, Operations Administrator, Alpheus
Lorna works in our on-site Operations Team for one of the UK largest Pharmaceutical wastewater treatment plants. She makes sure operations run smoothly which entails managing a wide variety of tasks from data collection and recording of results, to ordering stock and equipment and completing documentation, monthly reports to ensure compliance, and much more!
"I am the only female in our team of nine – I am treated with respect and always felt like a valued member of the team. We have a great team on site and everyone is very supportive. It's a varied role and no two days are the same – so if you are looking for a role where you can expand your knowledge and enjoy variety in your job – the water industry should be on your list to consider.
"My advice to anyone considering taking on a role in a mostly male dominated area is not to be daunted. Working in a pharmaceutical manufacturing plant has been extremely interesting and I am proud that I work at the wastewater treatment plant."
¹ https://www.euskills.co.uk/wp-content/uploads/2022/04/sector_2022.pdf