A new generation of Celtic Anglian Water Apprentices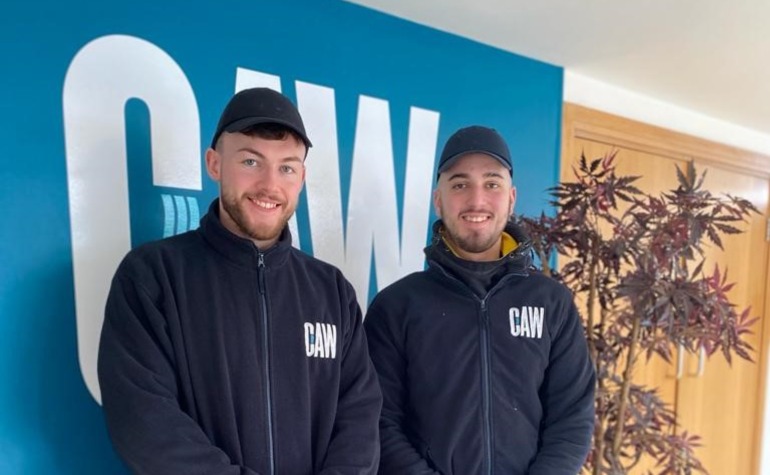 Celtic Anglian Water (CAW) wouldn't be a highly regarded provider of innovative water and wastewater solutions without it's amazing, highly skilled team. To help us continue to deliver and grow we're honoured to be training and developing a new generation of electricians to help us and our customers achieve our long term goals.
We'd like to introduce you to two Electrical Apprentices that started their journey with us in the last year.
Killian sought a rewarding alternative to the college route
Killian Barr joined Celtic Anglian Water on an electrical apprenticeship in May 2022. Killian discovered the traditional college experience wasn't for him, so decided to look for alternative opportunities, which led him to apprenticeship as an option:
"After doing some research, as well as conversations with friends and family, I chose to pursue an electrical apprenticeship. An electrical apprenticeship interested me the most due to the ability to develop further into things such as engineering."
After being here 10 months, this is what Killian had to say about his journey so far, and what he's looking forward to:

"I really enjoy the community feel at CAW. It makes it easy to come into work every day. We know everyone who works on site and they all know us. I enjoy the health initiatives such as the steps challenge in February, the BBQs and the inclusivity at CAW such as LGBT etc."

"I am really looking forward to going to college and meeting other apprentices. We have learned so much already and are looking forward to learning more once we complete our college phase."
Alvaro was inspired after an "Access to apprenticeship" course
Alvaro Moqi joined the team as an electrical apprentice after completing an apprenticeship access course at TU Dublin which is designed to introduce learners to different trades. He sought and electrical apprenticeship because he "liked the role". Alvaro shared "My brother-in-law and my uncle are electricians so that had an influence on my decision".
Alvaro has enjoyed the fast pace of his induction to the trade. He told us that he expected the early stages of apprenticeship to be quite repetitive but the reality has been very different:
"Here at CAW I am shadowing electricians during their fault finding activities and learning the technical things at a faster pace than I thought."
Here is Alvaro's advice to anyone considering an apprenticeship, and what he has found most rewarding in his first year:
"I'd recommend the Access to Apprenticeship course, TU Dublin. This course gives you an insight into other apprenticeships. You get to do work experience with it. You have to do a different trade every day for 3 weeks."

"[at Celtic Anglian Water] I have enjoyed getting to know the plant and seeing all the big engines on site. I also really like the people, the health initiatives and in particular the international BBQ plus the international cookbook. It is nice to work on the same site every day whilst building relationships with others."
If Killian and Alvaro have inspired you to consider an apprenticeship you can find out more about becoming an electrical apprentice in Ireland on the Generation Apprenticeship website. If you're interested in joining our team as an apprentice head over to our Celtic Anglian Water careers page to view current opportunities where we're advertising for an Apprentice Mechanical fitter.
Here at CAW we value on-the-job experience, as well as the theory. So we ensure our apprentices are exposed to a considerable variety of plant, equipment, installation, and fault finding in a controlled environment during their time with us. We have high expectations from our apprentices, just as we know they have high expectations from us which we aim to meet and exceed every way we can. We're delighted to say that, once qualified, they usually stay with us.
For those that choose to widen their horizons, they leave the team as competent qualified trades people that we are proud of. Of course, completing an apprenticeship is just a start of the journey – CAW encourages ongoing training and development at all levels in the company and all fitters and electricians are encouraged to continue their education and achieve engineering degrees if they wish to.