Benefits of choosing a Solutions, (rather than Technology), Provider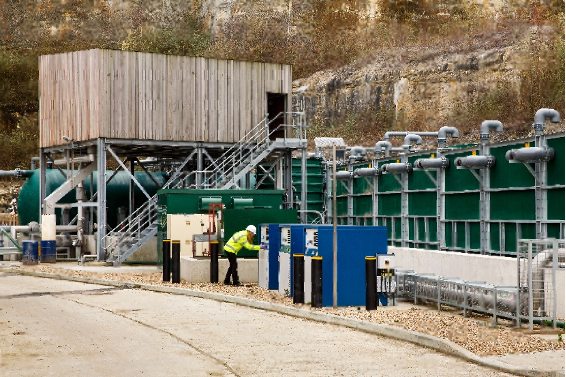 By Ciarán McCausland, Technical Director
A critical part of any decision-making process for any large investment, project or purchase is which supplier, delivery partner or company to choose for it.
If you're looking to upgrade your existing water and wastewater assets and systems, or to invest in something new, there are a few questions you might want to ask of your potential supplier/contractor.
Are they recommending us the best available technology and equipment, from across all markets?
Are they offering a bespoke solution that's best suited to our business needs, waste stream and sector?
Do they have specialist knowledge and experience that will help us develop the correct solutions when unforeseen business challenges arise?
Are you being sold the right technology and equipment?
In the water and wastewater industry there's plenty of technology providers, but genuine solution providers that have the capability to integrate appropriate technologies to deliver the best outcome are fairly unique. So what are the benefits of working with a solutions provider and why could a solutions-based approach be better for your business? Read on to find out!
The right solution for your waste stream, no matter what sector you're in.
As a solutions provider, we believe that different waste streams need different combinations of technologies to deliver desired client outcomes. We've never believed in a 'one size fits all' approach, and in today's rapidly changing world that approach is becoming increasingly outdated. New technologies are coming on the market every day and it would seem naive not to use them. Yet many of the large players in the water and wastewater industry are still only offering clients their own technologies and products, (regardless of their waste stream and sector). We dedicate our efforts to rigorously testing these new and innovative technologies on our established sites so that we can confidently apply them in new situations when they are required.
We offer a 'turnkey solution' for water and wastewater treatment, helping customers make the best selection from the full range of available technologies across the market – from pH correction plants, to dissolved air floatation systems, to full biological treatment and membrane systems. And we tailor our services to meet each client's exact requirements, to ensure they find the right solution for their water and wastewater needs.
Bespoke analysis means a solution that's best for your business needs
Client priorities differ, sectoral demands differ, and manufacturing processes certainly differ, therefore there is a definite need for a bespoke approach to upgrading or installing water or wastewater treatment plants!
The combination of technologies, equipment, and overall design is critical to delivering the clients' needs and this is where we add value. Based on our significant O&M (Operations and Management) experience and with our highly skilled engineering team, we deliver robust, cost-effective and future-proof solutions.
Our turnkey service includes all civil, mechanical and electrical site installation works, with full Project Supervisor Design Phase (PSDP) or project Supervisor Construction Stage (PSCP), which can require minimal client involvement, (if that's what's wanted).
As solutions provider, we work in partnership and collaboration with our clients to ensure a fully integrated approach to every project. We encourage engagement at the earliest possible stage in the project's inception to provide our experience and knowledge on how the best outcomes can be delivered for the client. Our team manages the design, delivery of all capital works, using a supply chain that includes some of the industry's most respected global suppliers.
Access to leading technologies and equipment, across all markets
We're not a technology provider or manufacturer – we're a company that specialises in designing the right solution to deliver the desired outcomes. Client's priorities differ and we work with each one to deliver on those priorities.
Nor are we, (unlike other large global organisations), a vendor of equipment. This means that our clients aren't limited to using only our solutions, technology or equipment, and given our Group's position serving 4.3 million people's water needs in the UK we have access to all of the markets' leading technologies. Whether it's anaerobic digestion, aerobic treatment systems, ultrafiltration or another alternative, we have experience in delivering them all across a range of sectors including Brewing, F&B, Pharma and Manufacturing.
We're also happy to utilize and integrate any technology that our clients wish to use or have experience of from elsewhere in developing the appropriate solution. We're also able to tender preferred technology packages as part of any scheme, to ensure our client gets value for money in procurement activities.
Solution-provision is also a mindset
The value we offer clients as a specialist solutions provider in water and wastewater also comes from our ability to draw on a much wider network of people and their knowledge and experience, including Anglian Water, one of the UK's biggest water companies.
Celtic Anglian Water and our sister company Alpheus (UK) form part of the contracting arm of Anglian Water, and sustainability is just how we do business – all day, every day. Anglian Water is committed to becoming a net zero carbon business, (as many of our clients are too), so we understand well this priority.
As a solutions provider we put our clients first, focusing on developing a full understanding of their business, (including future expansion plans), so that we can provide a framework that offers the most appropriate solution(s). We tailor our services to meet client's exact requirements, and with over 100 years' collective experience of water and  wastewater treatment plant and water technologies, our team has a wealth of expertise and diverse skillsets that consistently meets and exceeds client's expectations.
Get in touch today!
CAW (ROI) and Alpheus have been developing bespoke solutions for the private and public sector for nearly 40 years, always working with our clients to fully understand their needs and priorities. While the market has changed drastically over the last 5 years, we've stuck true to our roots.  We know what we're good at – delivering turnkey capital works and providing the highest level of waste = water for our clients.
We've been able to take advantage of the all the new technologies as they come on the market as opposed to waiting to develop a technology of our own. In project delivery and construction, we've been able to work with manufacturing and technology providers in delivering as much off site development and construction as possible. This limits our time on our client's sites carrying out construction activities, which are a risk to us and to our clients.
We're able to deliver 'the whole package' when it comes to upgrading or installing water or wastewater treatment works, and no job is too small either! We've gained an excellent reputation amongst our clients for consistently delivering to the highest standards. We've had a 100% retention level with client contracts over the past 5 years, plus have recently entered into our 20th year O&M contract with a global pharmaceutical company. And this year, Alpheus won the 'Best AD/Biogas Support' category at the ADBA 'AD & Biogas Industry Awards'.
So whatever your needs, get in touch today to find out how we can help you! Find out why we're different and why companies and organisations choose time and time again to work with us.
Contact Darren O'Reilly via: doreilly@caw.ie  or call him on: 00 353 83 8212339.