Trio consortium works with Irish Water to deliver major upgrade of Dublin Treatment Works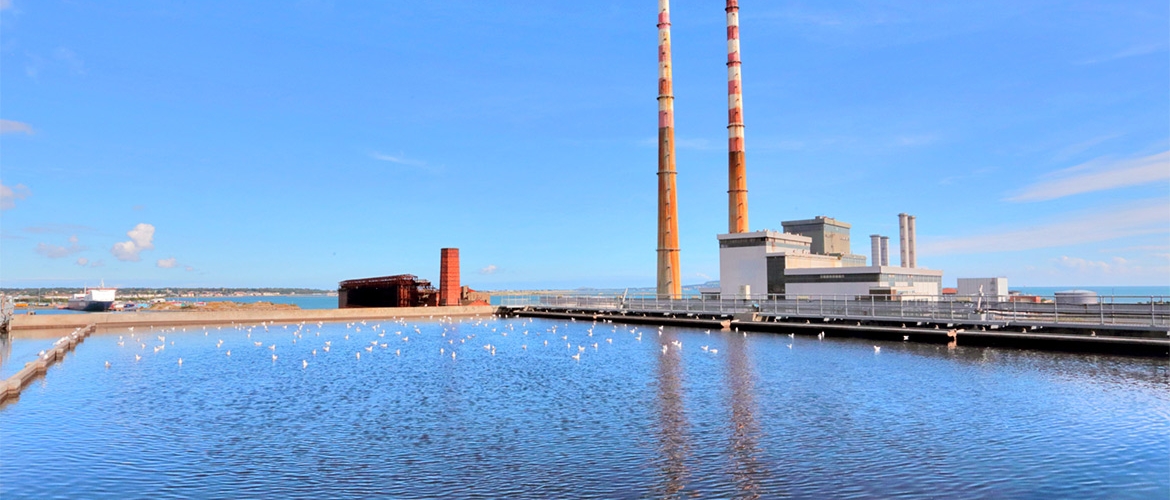 Celtic Anglian Water, Farrans & TES (FAcT3 Consortium) have secured the first of four major upgrade contracts to enhance the level of treatment in the existing secondary treatment tanks at the Ringsend Wastewater Treatment Plant serving the greater Dublin area.
Celtic Anglian Water, the existing operator of the Ringsend WwTP, will work with established partners Farrans Construction & TES Technologies to upgrade the existing secondary treatment stage at the Ringsend plant, which will include the upgrade of the existing 24 secondary treatment tanks to enhance capacity. The upgrade will retrofit advanced process treatment technology into the secondary treatment stage providing an enhanced level of treatment within the existing infrastructure
This is the first of four contracts to retrofit the secondary treatment tanks at the plant with Aerobic Granular Sludge (AGS) Technology.  Works on this contract have commenced and will take approximately 12 months to complete.
Since the existing Wastewater Treatment Plant at Ringsend was commissioned in 2005, the biological and hydraulic loads to the Plant have increased steadily.  The major upgrade that is underway by Irish Water will allow the Ringsend WwTP to treat the increasing volumes of wastewater arriving at the plant to the required standard, enabling future housing and commercial development. The overall upgrade project will deliver, on a phased basis, the capacity to treat the wastewater for a population equivalent of 2.4 million while achieving the standards of the Urban Wastewater Treatment Directive.
Declan Maguire, Managing Director Celtic Anglian Water "We are delighted to be working with our partners TES and Farrans on such a prestigious project, the upgrade of the largest treatment works in Ireland, and one of the largest in Europe. As the Operator of the existing Ringsend Wastewater Treatment Plant, Celtic Anglian Water understand the significance and complexities of this upgrade and will work with Irish Water to ensure it is delivered in the most efficient manner."
A spokesman for TES said "We are delighted to be awarded this high profile and critically important project by Irish Water. Our consortium is uniquely placed to successfully deliver complex design, build and operate project of this nature. We look forward to collaborating with our consortium partners and with the Irish Water team, in order to successfully deliver this project and provide the Greater Dublin area with the wastewater treatment plant it requires to meet future growth projections."
Neil Sturdy, Farrans' Regional Director, said "We have been pleased to support Irish Water over many years and, along with our partners, this appointment continues that successful relationship.  This innovative scheme will build on Farrans' record of delivering major infrastructure across Ireland and we thank Irish Water for entrusting this regionally significant project to our joint venture.  These are challenging times for the economy so it's encouraging to see public sector projects such as Ringsend being given the green light."
Notes to Eds
Celtic Anglian Water
Celtic Anglian Water (CAW) is an Irish based wastewater contract and is a wholly owned subsidiary of Anglian Water – one of the UK's largest water companies. CAW is a proven leader in the provision of innovative water, wastewater and resource recycling solutions for a range of sectors which include municipal, industrial and commercial industries in Ireland. From design and engineering to construction, through to site operation and management, CAW has a proven track record in the provision of Lean water and wastewater solutions that increase efficiency, reduce carbon footprint and minimize operational cost for our customers.
For more information please visit www.caw.ie
Farrans
With operations across the UK and Ireland and employing over 500 people, leading building and civil engineering contractor Farrans Construction has significant experience of working on projects of all sizes across a wide range of sectors.
Farrans is part of the Northstone Group which in turn is wholly owned by CRH plc, the global building materials group with an annual turnover of €28billion. The Civil Engineering division of Farrans operates in five key sectors of Roads & Bridges, Water, Marine, Renewables and Horizon.  In the Water sector it has delivered high profile projects across Ireland and the UK and is currently working for a number of water companies including Irish Water, Northern Ireland Water, Anglian Water and Affinity Water.
For more information visit www.farrans.com
TES
TES are one of Irelands leading process MEICA engineering contractors; specialising in delivering complex water and wastewater treatment projects throughout the UK, Ireland and Internationally. They provide mechanical, electrical, instrumentation, control, automation and process solutions to clients, utilising in-house resources. TES offer clients a 360-degree package of complimentary services from Project Management, to Process Design and Automation using the latest BIM technology to design, construct, install and commission complex water and wastewater treatment projects.
For more information please visit www.tesgroup.com