Pride within the CAW Team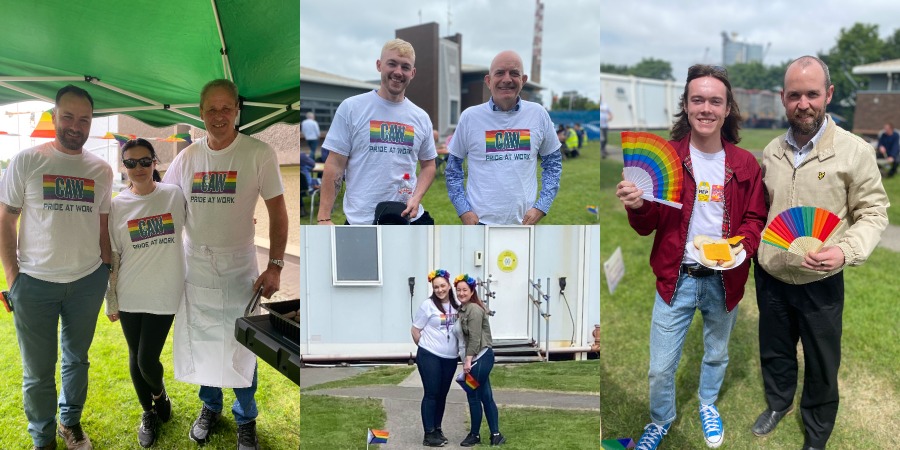 It's not unusual for companies to change their logo as a tick box exercise to support Pride month and celebrate the LGBTQ+ community, but that doesn't feel authentic for us. Our motto at CAW is "Life is not just a work thing" so we believe it's important to promote and encourage inclusivity and wellbeing throughout the year.
Whilst Pride month and the Pride BBQ is a highlight in our calendar to celebrate the LGBTQ+ community and raise awareness, it is very much about connecting as a team to get to know each other better, strengthen bonds and form friendships, which promotes wellbeing for everyone. We're very much a family here at CAW and it is important to us that everyone feels supported, respected and valued.
For us, inclusively is very much closely woven with wellbeing. Our annual plan focuses on physical and mental health, inclusivity and dispelling stigma. We have engaged expert organisations to help us delivery training and resources to the such, such as See Change workshops to help managers support their teams' mental health better, and TENI workshops for all staff to understand and support transgender colleagues.
Don't just take our word for it – read what the team have to safe for life at CAW below. And, after reading their comments, if you're interested in joining the CAW family, head over to our Careers page to see the roles we're currently recruiting for.
Ruth Collins, Accounts Assistant
"CAW is a very welcoming environment for members of the LGBT and queer community. My own experience with coming out as non-binary was kindly, professionally and diligently supported, and the staff's yearly Pride month barbecue serves as a happy reminder of its ongoing acceptance and support every year."

Wal Nowak, Team Leader
"CAW is a company that cares about Your physical and mental health. It's very inclusive as well: everyone's respected here!"

Declan Maguire, Managing Director
"Our motto at CAW, "Life is not just a work thing" acknowledges there are many factors outside work that can affect us too. We have a yearly calendar of events and training, for managers and teams, that focus on mental and physical health to improve wellbeing and promote inclusivity. Our Pride BBQ is a highlight in this calendar for the team to chat and connect with each other to celebrate our diverse team, the LGBTQ+ community and raise awareness of issues they face. Resource and support from See Change, Aware and TENI have been invaluable in helping us support wellbeing an inclusivity at CAW."

Peter Leder, Procurement and Stock Manager
"I love being involved in all our events and also in the organisation of them. CAW is like a big family where we watch out for each other, making sure everyone is ok and giving people space to talk when they need it. I love our international BBQ where I get the opportunity to treat my friends and colleagues to polish cuisine!"
Padraic Dolan, Operations and Maintenance Manager
"It great to see CAW actively promoting inclusivity in the workplace and integrating it into our overall LIFE initiative being driven by the morale squad. It's not just a work thing is the tagline to LIFE which provides CAW with a holistic approach, to mental and physical health, wellbeing and inclusivity which kicked off a few years back but seeing it continue and evolve shows the genuine commitment to what it represents for within CAW.

"The pride BBQ is just one small element to the huge amount initiatives delivered year after year; I say this as I book in for my health check! While the BBQ was only a small element to the LIFE and the morale squad list of initiatives, it's not lost on me the huge amount a work that goes on in the background to make all these things happen. The success of the LIFE initiatives is a huge credit to CAW and Morale Squad."
TJ Murphy, Plant Operator
"As a CAW employee the company needs to be congratulated for their ongoing eagerness to support, help, and inform employees on various health and wellbeing issues which is driven by our Occupational Health Nurse, Suzanne. As a predominantly male dominated male industry, Suzanne provides workshops/talks on subjects such as Mental Health, Wellbeing and LGBTQ+ issues."

Emma Byrne, PA
"I really enjoy being a part of the Morale Squad! To interact with colleagues and see their enjoyment and appreciation is worth all the hard work and organisation. Getting together in person is so important in the post- Covid world so to play a small role in that is most rewarding."

Aoife Murphy, HR Administrator
"I really enjoyed the Pride BBQ, and it was evident on the day that everyone else did also. It is fantastic to be part of a company that both embraces and promotes inclusivity, and that genuinely cares about each staff member's wellbeing."

Joe Duff, Team Leader
"CAW wellbeing initiatives have really improved awareness around mental health in the workplace and staff are not afraid to ask for help when in need as a result of these improvements that our OHN Suzanne has led!"

Sean Croysdill, Odour Technician
"The BBQ's create a welcoming atmosphere and give people a great sense of belonging"

John Carter, Facilitates Manager
"As chief griller I really enjoy barbecuing for my CAW family, it brings us all closer together, we have a laugh and a chat and it is great to have a team involved in the organisation, we have become more than work colleagues, strong friendships have developed."

Clionadh Williams, Health and Safety Officer
"It is so important to recognise, acknowledge and promote wellbeing and inclusivity within the company. By doing this, we are educating our team and building a strong company culture that will benefit not only the workplace but also the community."