Supporting Women In Engineering Day 2017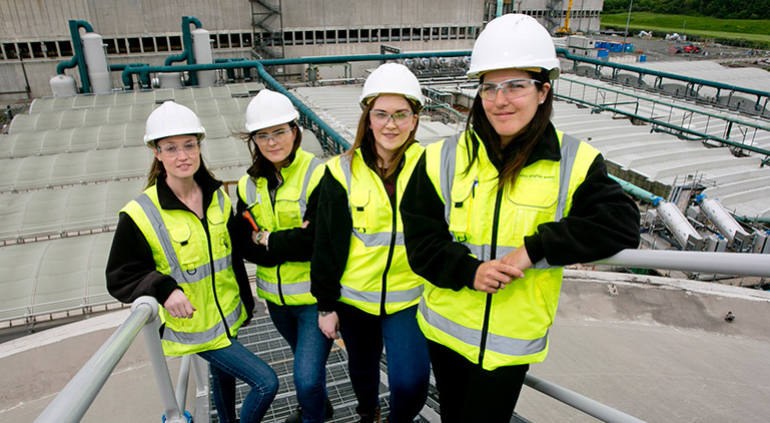 Inspiring the Next Generation
Outdated attitudes can often preclude women from pursuing or progressing in an engineering career. However, with an ambition to champion individuals regardless of gender, companies can, and will, make gender equality and diversity issues a thing of the past.
For Clare Duggan, Project Engineer at Sligo Water Treatment works (WTW) – operated by Celtic Anglian Water (CAW) – engineering is one of many industries where gender imbalance exists. But, Duggan – who feels she's never been treated any differently in the workplace to her male counterparts – says this isn't because one gender can do a job "better" than the other, rather it's because each individual needs good guidance on choosing the career that best suits them.
"Equal opportunities should begin at school level, when you people are making decisions that will affect their careers. There are societal benefits to removing gender imbalance from all industries, but this shouldn't be the only, or primary, aim when assisting young people in making career defining choices. The man goal of such guidance should centre on helping teenagers select careers that suit their skillsets and will have the ability to engage them throughout their professional lives".
Showing Enthusiasm
CAW work with schools to provide tours of their plants around Ireland to encourage all children to think about a career in engineering. The tours show students examples of the challenges and opportunities within the industry.
"Water and wastewater treatment is a very technological and interesting field of study/work, with a major impact on the environment" says Inês Croft, Project Engineer at Ringsend WWTW in Dublin operated by CAW. "Working in one of the biggest wastewater treatment plants in Europe, I've developed my creative problem-solving techniques, my ability to work as part of a team, my attention to detail, my capacity to handle competing priorities and my desire to learn".
Clionadh Williams, Process Engineer at Ringsend, adds:
"By showing girls the different prospects and importance of engineering, we can help build and develop the necessary skills needed for different job requirements in the future. There's a perception that an engineering role is a man's role – this is totally inaccurate, and we need to remove this perception.

To inspire and educate the next generation we must make what we're teaching them valuable. It should be interactive and interesting, and we have to be enthusiastic when we're with them. I've hosted school visits in the past and I found that providing hands-on experience sticks in the minds of children more so than what I have spoken about".
Balancing Tasks
According to Elizabeth Cohalan, Project Engineer at Ringsend WWTW, presumptions about who can do a task, and if they can do a task based on "work-life balance" are simply just that – presumptions.
"For me, as an engineer, balancing work and social life has been very easy to achieve",
says Elizabeth Cohalan, Project Engineer at Ringsend WWTW.
"When I first started, I had only recently moved up to Dublin and was still finding my feet. On my first day, I was encouraged to join a local football team as it was important to have something outside of work. Thankfully, due to CAW's support, I haven't had to make any sacrifices because of my role.

I've also never felt that certain tasks were assigned to me because of my gender – we've been provided with an environment for both men and women to get involved in the work as much as they can. What plays the major role in the work you get is you: your attitude and ability to communicate. You take charge