Engineers Week is no waste of time with visit to Ringsend
---
One of the largest wastewater treatment works in Europe will host a visit of three schools and the Director General of Engineers Ireland, on Friday 10th March as part of Engineers Week (4th to 10th March).
---
Ringsend Waste Water Treatment Works, serving the greater Dublin City area and managed by Celtic Anglian Water (CAW), is one of the most innovative and technologically advanced works of its kind in Europe. It will host a visit by Caroline Spillane, Director General of Engineers Ireland and three schools from across Ireland, marking the last day of Engineers Week.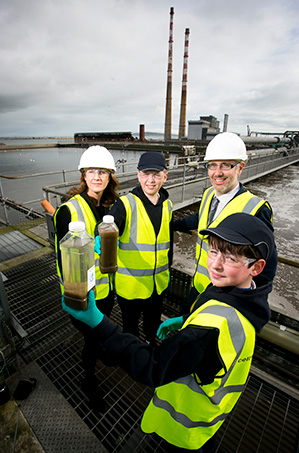 The pupils visiting are from St. Michael's College Junior School in Ailesbury Road, Dublin 4 and are all aged between 10 – 12 years old.
Engineers Ireland is the voice of the engineering profession in Ireland and through its STEPS programme organises Engineers Week – funded as a strategic partner of Science Foundation Ireland's (SFI) Smart Futures Programme.
Engineers Week is a week-long programme of nationwide events celebrating the world of engineering in Ireland. The aim of the week is to create a positive awareness of and spark enthusiasm about the engineering profession among young people with little or no engineering background.
The three visiting schools will be given an introduction to engineering within the water industry and an insight into how wastewater is treated before being recycled back to our waterways from where is began. Presentations on the day will also include an overview of how 50% of the electrical power required by the treatment process is generated on site from the biogas produced in the sludge digestion process, and how the biosolids byproduct of the treatment process is further processed to produce a nutrient rich organic fertilizer, Biofert, for recycling to agricultural land across the country.
Declan Maguire, Operations Director for CAW said:
"We are delighted to be supporting Engineers Week and promoting engineering as a career choice. As one of the largest and most innovative treatment works in Europe we naturally receive a lot of interest in our site at Ringsend, and as a significant employer of engineers we are always keen to promote and develop the profession.

"We are always happy to assist schools, colleges, and universities who are interested in the Works and gaining a real insight into a number of the engineering disciplines including civil, mechanical, electrical, and chemical. Engineers Week, co-ordinated by Engineers Ireland's STEPS programme, is a great way to raise the profile of the engineering industry to budding engineers of all ages and we are delighted with the level of interest we have received in the events we are hosting for schools today"
Caroline Spillane, Director General of Engineers Ireland commented:
"Engineers Week is a chance for parents and young people to find out more about the many career opportunities available within the engineering sector and learn about the kind of skills that qualified engineers can build on as they move through their careers. Engineers Week also highlights how a career in engineering is accessible to all those who have an interest in the sector. There are many misconceptions about the 'type of person' who should pursue engineering and during Engineers Week we can show people that the world of engineering is open to everyone - girls, boys, creative thinkers, curious minds, problem-solvers and leaders.

"We are delighted that so many engineering organisations have embraced Engineers Week by hosting local students and creating specially tailored workshops and events to showcase their organisation and profession. By doing so, we have been able to engage with over 58,000 students, parents and teachers nationwide, sparking an enthusiasm for the profession and helping students to explore their future in this exciting subject area,"
---